Happenings
September 18, 2015
What I did on my (actually, "your") summer vacation....
For more videos check out my YouTube channel
January 29, 2013
After a few wobbly pops the other night, somebody plopped a guitar on my knee. so, I played "cover of the rolling stone". Good singalong tune. Well, when the chorus came around, my buddy Arnold, who's an avid curler (not so much a singer), sang "cover of the curling news" as a joke. It was funny at the time, and I thought I had moved on. But later, I woke up in the middle of the night and had that goofy tune stuck in my head. So, the next day I decided to write some lyrics for fun and record it in my studio. I sent the mp3 around to close friends and got a laugh, so I decided to put a video together too.

I posted this thing late last night (3:30 a.m.) on youtube. I got up this morning, and there's two e-mails and a telephone message waiting for me from, you guessed it, the editor of "The Curling News". "Please get back to me ASAP, ASAP". So, we spoke and he had a couple of enthusiastic promises about promoting the hell out of it. So, this is the result. I hope you enjoy it and if you do, please share it with your friends.
December 20, 2013
I produced an album for Hockey Hall of Famer/musician, Bryan Trottier recently. I got my ol' straw hat, got a piece of prairie hay to chew on and kicked 'er, ol' school country. Twangin' the telecaster on this one. Lots o' fun! Check it out, if you like. You might recognize this. The album can be purchased on iTunes.
jamie williams live!
Jamie Williams has been performing professionally for over 25 years. As a headline performer at most of Central Ontario's premier vacation resorts, he has entertained audiences of people from all across North America. After his shows the response is always the same - "Wow! How does one guy produce such a big sound?!"
Jamie gives the answer to that familiar question:
"After spending some time on the road with various bands, I decided the lifestyle wasn't what I wanted. As a result my musical career leaned towards performing solo for a period of time, and I started playing coffeehouses and small venues with an acoustic guitar and harmonica. Although I enjoy this "laid-back" type of entertaining, I am a rock 'n' roller at heart. Feeling a little limited with this situation, I started to experiment with recording. I found that if I recorded myself playing drums, I could use the track as accompaniment in a live performance, producing a much bigger, more upbeat sound."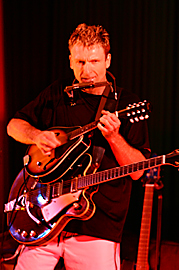 This led to the procedure Jamie uses today. In his studio he records all of the backing tracks for the numbers he plays live. A talented multi-instrumentalist, Jamie plays each and every instrument himself on the background tracks he uses in his live show. Even the vocal harmonies are painstakingly worked out and recorded. The result is a sound that is full and vibrant. Close your eyes and you will swear that a 5- or 6-piece band is playing up on stage.
Says Jamie, "This works for me because it allows me to be very versatile and play many different styles of music in my live show".
Jamie has performed at universities, resorts, nightclubs and many different types of hotels and events. In recent years, he has been very much involved with resorts in and around Ontario, from family oriented summer resorts to the slightly crazier atmosphere of ski resorts. He also plays at many corporate events, sports banquets, wedding dances, and any other venue where great live music is the ticket to a successful event.
"My stage setup usually consists of ten guitars (acoustic, electric, 6-string, 12-string, bass), banjo, two mandolins (different tunings), banjo, electric violin, piano/keyboard, saxophone, percussion (kick drum, snare, bongos, chimes,shakers etc.) and an arsenal of harmonicas. I'm told it's very entertaining. I'm glad because I love to play!"

If you are considering creating a larger and musically more dynamic whole out of some original pieces of work, then all roads should lead to Jamie Williams and Maple Leaf Sound Productions. Jamie not only has the studio and technical know-how but he is an incredibly creative, talented and skillful musician and vocalist as well. I like to refer to him as my 'choir of Jamies' on background vocals, a stable of studio musicians (playing lead, bass and rhythm guitars, keyboards, piano, percussion and harmonica), and a conductor extroardinaire all rolled

up into one - a complete package.
— Peter Whitfield,
Screen of Dreams
Maple Leaf Sound Productions

Maple Leaf Sound is a 24 track recording studio near Elmvale, Ontario. I originally built it for my own personal use, but in 1995 I opened it to the public. It is a complete state-of-the-art digital recording facility to accommodate projects of any size or type.
CD/Music Production
Multimedia Audio
CD Recording
Mastering
Maple Leaf Sound can compose and create audio for any multimedia project. Juice-up your interactive CD-ROMS, video games and TV/Video productions with a soundtrack of original music. In addition to composing original music and jingles for your advertising or marketing campaign, Maple Leaf Sound can produce and record the final product, including voice-overs, to the highest technical standards.
Do you have an existing piece of music or audio clip that you would like to have transferred to Compact Disc? We can take almost any audio format and make the transition to CD, often improving the quality of the final product.
If you have already recorded your project elsewhere, it still has to be mastered in order to optimize your CD's fidelity and dynamic continuity. We can digitally master your recordings to the highest quality standards.
Advertising Jingles/Music
Maple Leaf Sound Production is not only a fantastic recording studio with a great atmosphere for the creative artist, but is also an excellent choice for any business, big or small, to produce their next commercial jingle or advertising music. We are qualified, creative and professional here and take pride in our work, no matter how big or small. We have over 25 years experience in the business and have written commercial music in every main genre. From Country and Jazz to Rock 'n Roll and Hip Hop. Just let us know what you've got in mind and we'll take your concept from an idea to a professionally produced, full piece of music that's catchy, effective and ready for radio, television or the web. Simply drop us a line and let us know what you've got in mind and what you need. We love doing what we do here and strive to make sure every single customer is 100% elated with their new customized piece of music.
We will work with you in person or online to see your vision through to a finished product. Maple Leaf Sound Production will provide mp3 files of the work in progress, to let you hear how we're coming along and allow you to give us your input every step of the way. Once we've finished and you are completely thrilled with the product, we will provide it to you in your choice of media and format. We can also provide the product directly to the media platforms where it will be used if required. Drop us a line and let's see what we can do, to help take your business to the next level!
Bookings and Information
For bookings and information call (705)322-0911 or email Jamie.